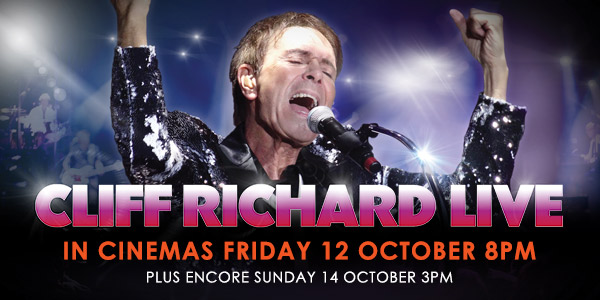 60th ANNIVERSARY TOUR LIVE IN CINEMAS
For the very first time, Cliff will bring his sold-out 60th Anniversary Tour direct to cinemas across the UK and Ireland.
The concert will be broadcast live from Manchester Bridgewater Hall on Friday 12th October 2018 at 8pm. Cinema goers will be able to celebrate with Cliff on this very special night, up close and personal like never before.
Encore screenings will run on Sunday 14th October at 3pm, on Cliff's 78th birthday.
"This 60th Anniversary year is such a very special one for me, with an album of new tracks that I'm really excited about, to be released in the autumn. Also I'm going to be able to bring my show live to cinemas around the UK which is a big thrill. I have the most wonderful fans and to be able to share this special evening live in Manchester with so many people is such a gift. It is going to feel as though I am with everyone everywhere that night, I can't wait! Cliff Richard
Tickets on sale now
Please book directly with the cinemas.
For more information and to find cinema locations near you, visit Cliffincinemas.com